Nov. 19, 2003
Undergrad unearths ancient documents
"A University undergraduate has unearthed a collection of unpublished ancient Egyptian manuscripts forgotten among the musty library shelves of the Harlan Hatcher Graduate Library."
Thursday November 27, 2003
The king of the pharaohs
Tim Radford meets the man who put the Egypt back into Egyptology

The Guardian
"Zahi Hawass is overlord of the underworld. At 56, he is the secretary general of Egypt's Supreme Council of Antiquities. The Sphinx, the great pyramids at Giza and the step pyramids of Saqqara all lie within his dominion. So too does all the buried treasure of Egypt, be it 100,000 years old or 100."
newsandgossipfromtheworldofegyptologynewsandgossip
News & Gossip
---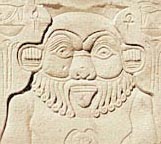 Sept.,2003

Manfred Bietak:
Israelites Found in Egypt
Four-Room House Identified in Medinet Habu

"Reed huts more than 3,000 years old belonging to workers—perhaps slaves—and with the same floor plan as ancient Israelite four-room houses have been identified at Medinet Habu, opposite Luxor in Egypt. These reed huts may represent extra-Biblical evidence of Israel in Egypt."
September 02 , 2003
Hawass answers the British press
"Secretary-General of the Supreme Council for Antiquities Zahi Hawas was the target of a fierce campaign by the British newspapers especially London Times and the Independent following his decision on preventing the British archaeologist Juan Flatcher from completing her work in Egypt."
Sept. 1, 2003
Statue of "Tut's Sister" Found in Private Collection Reports Manchesternews
But in this exclusive, Angela Thomas Keeper of Egyptology & Archaeology at Bolton, gave this statement to Egyptology World News.
"It is very easy for things to be mis-reported. I did not say that this was Tutankhamun's sister. The sculpture is the torso of a princess, one of the daughters of King Akhenaten and his chief queen, Nefertiti. There may be some family connection with Tutankhamun, aside from the fact that he married Nefertiti's third daughter, but there is no clear evidence or proof of this, although there has been plenty of speculation in a variety of books."
Aug 28, 2003
Spinning Nefertiti
"A British Egyptologist who claims to have identified the mummy of the legendary Queen Nefertiti is accused of breaking the Supreme Council of Antiquities' protocol. Nevine El-Aref reports for Al-Ahram. "
Aug 19, 2003
Nefertiti Discovery
Old News!
Joann Fletcher was not the first to link the celebrated mummy from KV 35 to Nefertiti as claimed on the Discovery Channel. Marianne Luban had already advocated for this identification in her
1999 article:

DO WE HAVE THE MUMMY OF NEFERTITI?
It would appear that neither the fact checkers at the Discovery Channel nor Joann Fletcher have done their homework.
Aug 23, 2003
KMT editor Dennis Forbes weighs in on recent controversies:
Nefertiti in Berlin
Egypt's Reaction
Joann Fletcher
August 20, 2003
SCA denies Nefertiti claims by British team. Zahi makes some inexplicable statements.
Calls Fletcher a liar, claims the mummy is a man and "Because Fletcher broke the SCA's code of ethics, SCA has decided that mission by the British expedition in Egypt should be suspended," ...
August 15, 2003
Hawass Slams Misinformation on the Rosetta Stone, Nefertiti's Mummy and the Wildung Scandal.
Cairo.
Al-Ahram reports that Zahi Hawass is denying stories he demanded the return of the Rosetta Stone from the British Museum, merely that he wanted it as a loan for the Egyptian Museum in Cairo.
Hawass also clarifies why authorities have prohibited German Egyptologist Dieter Wildung from working in Egypt: "Wildung's permit was revoked because the Egyptian authorities have incontrovertible evidence that he was involved in the illegal trafficking and buying of antiquities. The proof is a taped conversation between antiquities thieves; some of the Berlin Museum's artifacts stand witness to their guilt."
He also faults Egyptologist Joann Fletcher for not announcing her purported Nefertiti mummy discovery through normal channels (The SCA) and additionally casts doubt on her identification of the mummy.
Aug 18, 2003
Nefertiti on Discovery Channel Provokes Contempt
Joann Fletcher's "discovery" of the mummy of Nefertiti broadcast on the Discovery Channel was met with universal disdain on Internet discussions.
In the famous Hall of Ma'at message board the criticisms came fast and furious as in
Nefertiti ?? ... Is that you??
where dozens voiced their contempt for what they had seen.

October 3, 2003
Dietrich Wildung calls Dr. Zahi Hawass aggressive and uncooperative
Hawass alleges Nefertiti bust left Egypt illegally. "They covered it with mud and deceived Egypt..."
"Zahi Hawass raises international tensions in the quiet antiquities community as he fights to recover Egypt's plundered treasures"
from: Egypt Today: The Magazine of Egypt
Oct.5,2003
Dr Rosalie David Speaks Out on Fletcher's Expertise
"Joan Fletcher received no training in anthropology or biomedical Egyptology or any other scientific techniques related to human remains, she was never involved in any of the work or research undertaken by the Manchester Egyptian Mummy Project, and indeed she showed no interest in the anthropological and biomedical research on the mummies that were undertaken at that time."
Oct. 10, 2003
Smugglers ring broken
Switzerland has helped Egypt crack an international smuggling ring and bring its members to trial
"After six months of national and international investigations, Egyptian Prosecutor-General Maher Abdel-Wahed last Friday referred to trial 31 people involved in a massive antiquities smuggling ring which allegedly removed at least 300 Pharaonic, Coptic and Islamic artefacts from Egypt. The group has also been accused of graft and money laundering."